Lowest Possible Cost.
Highest Efficiency Flight.
Aeronautical professionals know these images are incorrect.
They are artistic portrayals of various issues.
The video is  ONLY intended to show the take off process.
The runway was stretched To 5000 feet
Actual would be 1000 feet
Seldom would a single craft fly by itself
Normally they would be joined together

The group flying over the container ship is a good illustration of the actual situation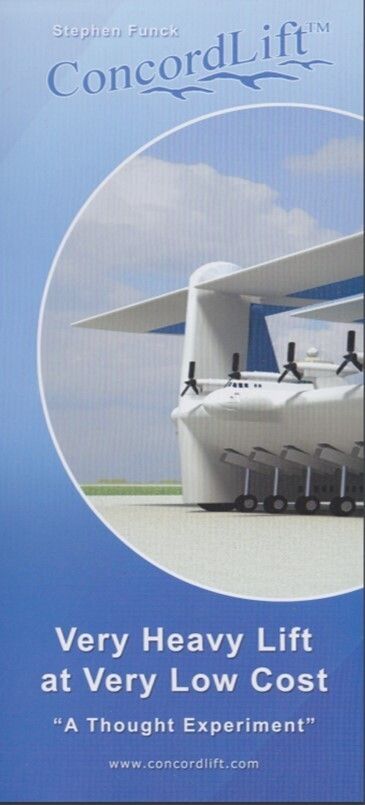 The American Institute of Aeronautics and Astronautics invited ConcordLift™ for presentation at the 12th Aviation Technology, Integration, and Operations Conference Session on Aircraft Design.

Basic theory for high efficiency includes: Spanloader, that distributes load from wingtip to wingtip, Laminar-Flow Control and large Aspect Ratio. No aircraft has been able to include all these well known factors. The unique ConcordLift™ configuration is required to achieve the Highest Efficiency Flight and the Lowest Possible Cost.

The revised paper solves issues in the original. The Power Point is a quick overview of that original paper. The unique take off procedure illustrated in the animation may be unnecessary in some versions.

This is a "Thought Experiment". The illustrations show a few of the many different possibilities. There is much more to this. ConcordLift™ is available for sale or license to qualified entities.

ConcordLift™ has been seen by thousands at AIAA events and many more have viewed this web site. No one has ever suggested a reason why this could not fly as proposed or that it would not be profitable to build and operate. The greatest problem is that it is by an outside amateur.

Peace - Concord
Stephen H. Funck at ConcordLift@mac.com 
What is the lowest cost possible for air cargo?
ConcordLift Abstract 2022
PDF